​

​
TRAVELERS GUIDE FOR 2021
Our Map of the Lewis and Clark Scenic Byway is intended as a guide for Travelers of the Byway Corridor for 2021.

Our Guide Map displays communities where Businesses, Galleries, Gardens & Museum Stops are located who have advertised on our Website for this year.

"Skipping Through Time" Museum Crawl--Summer of 2021 Events

Third Event- August 21 Visit as many as 9 different stops including Historic Houses, Train Depots, Museums, and more.

Please check business websites for more information on hours and activities.

The Map below shows most of the Byway Corridor and the Highways and number of stops that it plans to include as the season reopens.

Be sure to say "Hello" & "Thanks" to the businesses that sponsor and support the Lewis & Clark Scenic Byway!

MANY MUSEUMS & Businesses are now opening for the Summer--please call ahead!

Announcing our MUSEUM Crawl & Historic Home visits: "Skipping Through Time". Check to see which locations will be open for August 21st.

OMAHA--General Crook House

5730 N 30th St. #11b in Omaha

402-455-9990

www.DouglasCoHistory.org

Amazing Home and Gardens!

We are happy to tell you that the General Crook house Museum is currently open for its regular hours and is welcoming visitors.

---

OMAHA-McCord Mansion
5201 Davenport Street (Parking for the mansion is at the Dundee Elementary School, 310 N. 51st Street).
Step into the Golden Age of the 1920's and take a peek into one of the most elegant Mansions of Happy Hollow.
This is where the gentry cam to mingle and the famous local actors and actresses of the day came to party.
A Truly special home that has been restored to maintain its historical appeal while being showcased with elegant antiques of the era.

For Information contact Dany.girl@icloud.com

---
OMAHA-Lewis and Clark Visitor Center

Not open at this time!

Summer hours: M-F 8:00 a.m. to 5:00 p.m. Saturday and Sunday 8:00 a.m. to 4:30 Winter hours: M-F 8:00 a.m. - 4:30 p.m.
601 Riverfront Drive
Omaha, NE 68102
(402)661-1804

The Lewis and Clark National Historic Trail is approximately 4,900 miles long, extending from Pittsburgh, PA to the mouth of the Columbia River, near present day Astoria, Oregon, following the historic outbound and inbound routes of the Lewis and Clark Expedition. The trail was established by Congress in 1978 as part of the national trails system (NTS) as one of four original national historic trails. Today, visitors can follow the approximate route of the Corps of Discovery (Lewis and Clark Expedition members) by exploring the trail using a variety of transportation methods and interpretive means.

The Headquarters for the entire Lewis and Clark National Historic Trail is located in Omaha, Nebraska. We welcome you to our Visitor Center to experience our programming, 25 minute Lewis and Clark video, hands-on exhibits, and bookstore. Rangers provide Lewis and Clark and National Park Service information. America the Beautiful National Parks and Federal Recreational Lands Passes are available.

Behind-the-scenes, a multidisciplinary team of specialists with expertise in outdoor recreation, geography, environmental protection, natural and cultural resources, volunteer management, education, and interpretation assist in furthering the mission of the Trail.
FORT CALHOUN--Washington County Museum

Now Open Tuesday through Friday 9 to 5, Sat 9-1

102 N 14th St 402-468-5740

Go to www.wchamuseum.com for events & activities
Washington County Museum--"Skipping Through Time"
102 N. 14th Street Fort Calhoun
402-468-5740
Open Saturday, June 26 9-4 pm
The museum is a NE Tourism Passport stop

We will be hosting a wedding dress display at the museum that will feature dresses from the decades 1850 – 1970.

There is also a community garage sale in the town of Fort Calhoun that day. The museum is participating and will have garage sale items outside.

Admission: $3 provides access to museum and Frahm House
Historic Frahm House
220 S. 15th Street, Fort Calhoun, one block west of the museum
Open Saturday, June 26 9-4 pm
quilt display in the house to fit with the quilt theme that others are doing. We will feature several quilts that were a part of the Smithsonian traveling quilt exhibition in 2007 called "Going West! Quilts and Community."
lemonade and cookies on the porch of the house
County historical museum featuring exhibits of early Native Americans, Lewis and Clark's council with the Otoe's, archaeology, early towns and pioneer homesteading
---
BENNINGTON
11523, North 156 Street

Business 402-614-7509 and Cell 303-328-5693

www.oftsbb.com and Facebook

Oft's Bed & Breakfast is located in the small town of Bennington; just a few miles northwest of Omaha. The Oft/Gordon House is on the National Register of Historic Places and was awarded the 'Hidden Treasure Award' from the Nebraska Heritage Program. It offers a 'small town' atmosphere but is only minutes away from the shopping and entertainment opportunities of Omaha.

We have displays in our home regarding our family and community. We also have nearly 30 historic street signs placed in our downtown area that displays old photographs and captions. That is a self-guided tour that covers about 6 blocks.

Bennington also boasts an artistic fence located along main street that contains panels depicting longtime organizations and family history.
Cancellation Policy: Cancellations made less than 14 (30 days for special events) days from arrival date will be billed $50 per reservation day; cancellations made within 2 days of arrival date and 'no-shows' will be billed in full.
OFT's B & B Bennington
TEKAMAH--Burt Co. Museum
NOW OPEN! Regular Hours: 1:00 to 5:00 p.m., Tuesday, Thursday and Saturday.
319 N 13th st 402-374-1505

www.burtcountymuseum.org
Historic 1904 E.C. Houston House and Museum grounds. Owner of the Houston Lumber company, Mr. Houston was a prominent businessman. The interior of the 14 room house remains much as it was, with beautiful leaded-etched windows, early light fixtures, open stairway to the second floor, and a third floor ballroom. Four floors of exhibits.

Next to the Houston House is our Folsom Park Bridge over a pond filled with Koi fish. Beautiful grasses, flowers, trees and plants adorn the berm.
Saturday, June 14 opening day for Burt County Museum Summer Quilt Display featuring Logan Valley Quilters Guild. We will be open to the public from 10 to 4. The display will run all summer thru Tuesday, September 14, 2021. Come and enjoy quilts throughout the Houston House and the museum Annex located east of the main house. Also enjoy art done by Tekamah Herman fourth grade students in the one room schoolhouse.

Our beautiful Folsom Bridge is also a nice place to admire the many plants surrounding the pond. While enjoying the quaint little waterfall see how many Koi fish you can count that live in the pond.

---
Tekamah--Master's Hand

3599 County Road "F" on Hwy 75 402-374-2003

Plants and hanging baskets for sale plus an amazing variety of specialty candles and candies made daily. Classes are offered on Container Gardening, Succulent & plant care. Wide assortment of gifts for all occasions. Occasional Flee Markets and other events.



Worlds Greatest Cinnamon Rolls!
Master's Hand

www.mastershandcandles.com
www.facebook.com/mastershandshop.com
TEKAMAH--Bryant House
104 S 16th St 402-870-1127

Regular Hours: Friday & Saturday: 1-4 pm or by appointment. Please call 402-870-1127

www.bryanthousetekamah.org

Open for Tours by request all other times-please call 402-870-1127.
This 1890 house was built by Rose & E.W.Bryant. Rose is the granddaughter of Benjamin Folsom who was the founder of Tekamah.
The Queen Anne Victorian home has been lived in by members of the same family.
As different generations moved in the house, you would think that household items would be replaced. But fortunately, nothing was thrown out!
When stepping through the front doors, you are taken back in history. The first photos you see are grandparents born in 1777 & 1784. "Oh, the stories we can tell visitors". Please visit this fabulous house so we can show you many unbelievable items and share fascinating stories.
---
TEKAMAH
Silver Hills Winery

3130 County Road "M" off HWY 75

Due to "COVID" Please call for hours and appointments

OAKLAND--The Bing Bed & Breakfast
201 S Oakland Ave 402-380-9744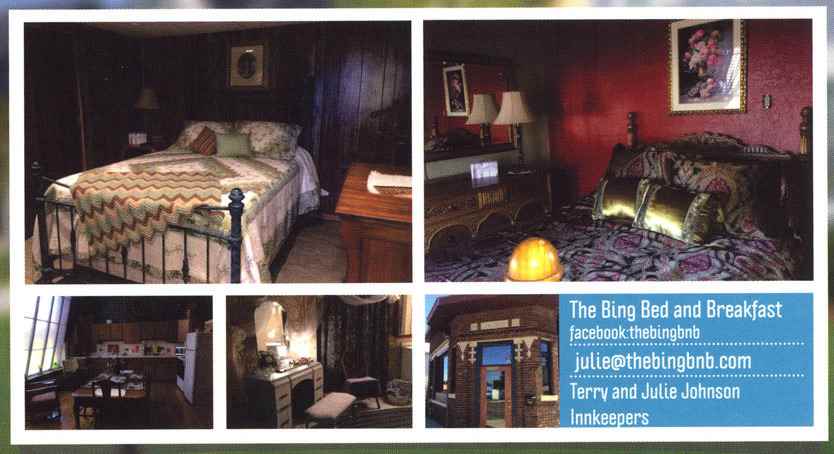 100 year old photography studio renovated into a gorgeous Bed & Breakfast with a relaxing outdoor garden with birdbath.
OAKLAND--SWEDISH HERITAGE CENTER


301 N Chard Ave Oakland, NE 68045

402-685-5652 or 402-380-9744 www.swedishheritagecenter.org

LYONS--Wyld & Woodsy

2080 County Road "Q", off Old HWY 118 Open by Appointment

www.wyldandwoodsy.com 402-380-1420

You will enjoy the darling gift shop and charming surroundings.

---
LYONS--Good Taste Farms

2160 County Road "R", on Old HWY 118 402-669-6939

Please Call for information and appointments.

Watch for the original Art on the barn: "The Good of the Hive"


We plan to have fresh vegetables/herbs for sale and of course tours of the property to discuss and demonstrate our processes.

They will be giving petite garlic bulbs or herb plant while supplies last to those that visit the farm. Be sure to sign up for Garden Path Prizes.

BANCROFT--John G. Neihardt State Historic Site
306 W Elm Street Hours: Tue - Sat 10-4 Sun 1-4

Visitors will be required to wear a mask inside.

www.neihardtcenter.org Please call for current hours 402-648-3388
Events Monthly

Enjoy the Sacred Hoop Garden near Neihardt's Study

---
Blackbird Hill Studio--On HWY 75, North of Decatur-- -- Now Open Thursday, Friday & Saturdays 10 to 4 or by Appointment on other days.

Through September for the Nebraska Passport!

3718 O Ave along Hwy 75

Open by Appointment

www.blackbirdhillstudio.com 712-899-4577

DECATUR--Decatur Museum
400 W 8th Street 402-349-5018

A.B. Fuller House built in 1875
Also known as the Robert E. Baker Memorial Building

Days open: Wednesday & Saturday 1 to 4 p.m.

Decatur is Nebraska's Second Oldest Town. "Preserving our past to Enhance our Future"
The Museum supports "The Local Legends Main Street Trolley". A community Art Project for story telling and sharing local legends.
WALTHILL--Dr. Susan La Flesche Picotte Center

Serving Cookies and a Cold Drink--Books about Dr. Susan for Sale also.

FUTURE PLANS FOR HISTORIC HOSPITAL

UPDATE: from Nancy Gillis, Secretary of the Dr. Susan La Flesche Picotte Board of Directors

The Dr. Susan LaFlesche Picotte Center (aka Picotte Hospital) is halfway through a massive renovation and full restoration. Due to construction, Covid, and the building being unoccupied, we have not been able to allow visitors inside for over a year. We are preparing to complete the work either at the end of 2021 or first part of 2022 and be able to open to the public.
Please check this link to our website

www.

drsusancenter.org so people can see the progress and find information on Dr. Susan and the project. In that light, being part of a museum hop is still possible, only with public being able to see the outside and be told a bit about this remarkable woman and other places in the town of Walthill which figured into her life and work; i.e. her home and the church where she taught Sunday School, and to be informed of her grave's location in Bancroft and her personal connection with Bancroft and John G. Neihardt (she lived in Bancroft and had her first office there) and other members of her family are buried there.

The following information is an Excerpt taken from the Sioux City Journal article 9/20/2020.
A groundbreaking ceremony was scheduled in September to mark the start of the restoration work on the Dr. Susan La Flesche Picotte Memorial Hospital. The three-story, 33 room structure was founded by "Dr. Susan", as she's known, 107 years ago to care for members of the Omaha and Winnebago tribes, as well as white settlers. The goal is to create a living legacy for the famed physician by reestablishing a medical clinic and a community center within the now-vacant building. Plans also envision an art gallery, an after-school center for local students, and a historical exhibit on Picotte's life.
---
HOMER--DAKOTA COUNTY HISTORICAL SOCIETY
--will be on our THIRD
"Skipping Through Time" Event August 21st--Open 1 to 4.
O'Connor House,
Combs One Room Country School,
Museum of Antique Farm Machinery
2470 Blyburg Rd, Homer, NE (Turn East off of Hwy 77 at Pronto Gas Station - 1 1/2 miles)
402-698-2288
---
---
HOMER--Art by Nature Studio & Woodland Landscape
402-698-2158

www.debcopplefineart.com
Beautiful Waterfall in Woodland Garden and Animal Paintings
---
DAKOTA CITY

Dakota City Railroad Depot--will be on our Third "Skipping Through Time" Event--Open 10 to 4.

Address: 1715 Vine Street

Dakota City Emmanuel Lutheran Church--will be on our Third "Skipping Through Time" Event--Open 1 to 4

1500 Hickory Street
Believed to be the First Lutheran Church in Nebraska

---
SIOUX CITY

Sergeant Floyd River Museum & Welcome Center--will be on our Third "Skipping Through Time" Event August 21st--Open 10 to 4.
1000 Larsen Park Rd. www.siouxcitymuseum.org 712-279-0198

Exit 149 off of the Interstate. Open 10 to 4 Seven Days a Week

We will be doing the annual car show on Sunday, July 11th,2021

The annual Lewis & Clark Encampment on Saturday, August 21st 10-4 and Sunday, August 22nd 10-3.

---
SIOUX CITY

Lewis and Clark Interpretive Center--will be on our Third "Skipping Through Time" Event August 21st--Open Noon to 5.
Check out our updated website: www.siouxcitylcic.com .
We have been able to continue presenting our Sunday programs and Saturday Kids programs via Facebook and YouTube & on our website.
Lewis and Clark Interpretive Center
Betty Strong Encounter Center
900Larsen Park Road
Sioux City, IA 51103
712-224-5242
facebook.com/sclandc
twitter.com/lcic_SiouxCity
Instagram.com/lewisandclark_siouxcity
Hours
9am-5 pm Tuesday through Friday
Noon-5pm Saturday & Sunday
All activities, programs and exhibits are free
Built and sustained by (MRHD) Missouri River Historical Development, Inc.
Life-like animatronics
Hand-painted murals
Entertaining and informative presentations
Local history, art and photography
WAKEFIELD
--will be on our
"Skipping Through Time" Event August 21st--Open 10 to 12.
WHO
Wakefield Heritage Organization
Open by appointment only on other days. Please Call-- 402-369-0449

Graves Library--214 West 3rd Street


The old library on 3rd street is now being enjoyed as a museum. Where there once were stacks and stacks of books, you'll find many relics and treasures from Wakefield's olden days. This library was one of the most luxurious libraries in the area when it was constructed in 1915 by Philo Graves. It was established as Graves Public Library as a memorial to his son Jay. The Library is open every Saturday morning during Spring and Summer from 10-12 or by appointment. The Graves Museum also is home to one of the largest collections of Antique Wrench's in the world. This collection is owned by Russell Marshall of Allen Nebraska. The collection includes over 3000 wrenches. The building is on the Nebraska Historical Society Register.
Wakefield Depot--101 East 1st Street

The beautiful Chicago & Northwestern Depot was built in 1925. It served the rail lines running east to west making Wakefield one of the busiest subdivision stations in all of Nebraska. In 2007, the City of Wakefield received the depot as a gift from Michael Foods Inc. The Wakefield Heritage Organization took charge of renovation and after many volunteer hours the depot opened its doors as a museum. You can tour the large waiting room, offices and freight room filled with working model trains. Visit this old depot where old railroad artifacts and Wakefield treasures fill the walls of this delightful historic attraction.
Interior photos
---
PENDER

Thurston County Heritage Museum

Five generation of Wedding Attire on display.

Heritage Museum of Thurston County Nebraska
500 Ivan St. Pender, NE 68047
To arrange a visit please call Kellie Wageman 402-922-3714
Regular Hours:
Year round: Mon & Fri 1-4 pm. Free admission

Follow & Like us on FACEBOOK: Heritage Museum of Thurston County
---
ALLEN

Dixon County Historical Society--will be on our Third "Skipping Through Time" Event August 21st--Open 12 to 4.
Museum in Allen, NE. 215 South Clark Street
Five buildings of Dixon County History
Please email gloriaobe@gmail.com for information.

Facebook: DixonCounty Historical Society
---
---