TRAVELERS GUIDE FOR 2022
Our Map of the Lewis and Clark Scenic Byway is intended as a guide for Travelers of the Byway Corridor for 2022.

Our Guide Map displays communities where Businesses, Galleries, Gardens & Museum Stops

We have Puzzles for sale $5.00 (photo shown below). Text 712-899-4577 to purchase.

www.lewisandclarkscenicbyway.com

The Map below shows most of the Byway Corridor and the Highways.

Be sure to say "Hello" & "Thanks" to the businesses that sponsor and support the Lewis & Clark Scenic Byway!

Our Winners for our Sccavenger Puzzle Hunt this year: Beth Renshaw from Tekamah-$500 and Joan Hansen from Pender-$150
Left: Joan Hansen Right: Beth Renshaw
Joan said "Finding new places that were so amazing and close to where we live. I will definitely be returning to some of these stops with my Grand Kids!"
Beth said "We enjoyed traveling together with Friends to all of the different places. We were especially impressed with the Lewis & Clark Interpretive Center in Sioux City because we even enjoyed special music with singing and guitars playing."

All STOPS & Businesses hours are listed below--please call ahead to confirm hours!

List of Stops by participating towns:

Omaha—Lewis and Clark Center
Fort Calhoun—Washinton Co. Museum
Blair—Country Gardens, Creative Connections, ACME fabrics, Main Street Boutique, Cherry Pickings, Blair Garden Center, Bra-ta Boutique
Herman—Jiffy Shop

Tekamah—Burt Co. Museum, Chatter Box, Tipsy Pig, Bryant House Museum, Pollinator Garden/Plaindealer, Bitters Critters, Ronnie's, Master's Hand
Oakland—The Bing, Nelson's Food Pride, Swedish Heritage Center, Eden Events, Simple Blossoms by Lena
Lyons—Center for Rural Affairs, Petal Pushers
Bancroft—Neihardt Center, First Com. Bank, Rude's Mart
Pender—Thurston Co. Heritage Museum, Uptown Pix, Thriftique
Walthill—Pop-A-Joes, Walthill City Office, HaWaTays
Decatur—Green Lantern Steakhouse, Pop N Docs, Bluff Haven, Decatur Museum, Sears Center, River's Edge Collectables
Decatur/Macy—Scenic Overlook and Blackbird Hill Studio
Onawa—Lewis & Clark Center at Blue Lake
Winnebago—Sweet Water Cafe
South Sioux City—Koffee Knechtion
Sioux City—Lewis & Clark Interpretive C., Dorothy Pecaut Center, Railroad Museum
OMAHA
---
---
OMAHA-Lewis and Clark Visitor Center

OMAHA - Lewis and Clark Trail Visitor Center
402-661-1804
*Due to construction, entrance is accessible only via Abbott Drive, then turn south on Riverfront Drive.*
The Lewis and Clark National Historic Trail is approximately 4,900 miles long, extending from Pittsburgh, PA to the mouth of the Columbia River, near present day Astoria, Oregon, following the historic outbound and inbound routes of the Lewis and Clark Expedition. The trail was established by Congress in 1978 as part of the national trails system (NTS) as one of four original national historic trails. Today, visitors can follow the approximate route of the Corps of Discovery (Lewis and Clark Expedition members) by exploring the trail using a variety of transportation methods and interpretive means.

The Headquarters for the entire Lewis and Clark National Historic Trail is located in Omaha, Nebraska. We welcome you to our Visitor Center to experience our programming, 25 minute Lewis and Clark video, hands-on exhibits, and bookstore. Rangers provide Lewis and Clark and National Park Service information. America the Beautiful National Parks and Federal Recreational Lands Passes are available.

Behind-the-scenes, a multidisciplinary team of specialists with expertise in outdoor recreation, geography, environmental protection, natural and cultural resources, volunteer management, education, and interpretation assist in furthering the mission of the Trail.
FORT CALHOUN--Washington County Museum

Now Open Tuesday through Friday 9 to 5, Sat 9-1

102 N 14th Street Fort Calhoun

402-468-5740

Go to www.wcnemuseum.org for events & activities
Julie Ashton, Director402.468.5740
wcneMuseum.org FacebookYouTube

Admission: $3 provides access to the museum and Frahm House
Historic Frahm House
220 S. 15th Street, Fort Calhoun, one block west of the museum
County historical museum featuring exhibits of early Native Americans, Lewis and Clark's council with the Otoe's, archaeology, early towns and pioneer homesteading
---
BLAIR

BLAIR--ACME FABRIC & QUILT CO.

1716 Washington Street

402-533-1015

coyote@acmefabric.com

Hours: Tuesday-Friday 9-4 Saturday 9-3 or by appointment

A Great Variety of Fabrics and everything you need to be creative!

BLAIR
BLAIR GARDEN CENTER

1561 S. Hwy 30, Blair

402-533-2040

Hours: Mon-Fri 9-6 -- Sat 9-5:30 -- Sun 12-5

---
BLAIR--Bra-ta Boutique--Fashion Retail Therapy

402-242-0144

1669 Washington Street

Tuesday-Friday 10-5:30 Saturdays 10-3

facebook.com/brataboutique

You will LOVE this darling fashion shop!

---
Blair--Creative Connection Studio Gallery

1546 Washington Street

402-443-7078

Hours: Generally Monday to Saturday 10-6 Please call ahead!

Unique hand-made art and crafts, gifts and home decor in many styles and colors. Antiques and collectibles in a fun mix such as photographs, pottery, stained & fused glass, jewelry, collage and other media created by area artists.
Art and Music classes for all ages. Parties for painting a canvas or other fun projects available all year long.

BLAIR--COUNTRY GARDENS

1502 Washington Street

402-426-3010

BLAIR--MAIN STREET BOUTIQUE

1651 Washington Street

402-533-3938

Hours: Tue - Wed - Fri 10 - 5:30 -- Thurs 10-7:30 -- Sat 9-4

---
Blair--Cherry Pickings

402-812-9468 or 402-321-9623

1705 Washington Street

Tuesday - Friday 11-5 Saturday 11-3

---
HERMAN

HERMAN--JIFFY SHOP

301 Main Street - Highway 75

402-456-7696

Open 6am to 6:30 pm Monday thru Saturday Closed on Sunday

MMM...Ice cream, sodas, coffee & more!

We are a family owned business. We offer convenience items and fountain drinks,
coffee and slushies, along with delicious hot menu items for breakfast until 11am
and lunch/dinner until 6 pm.
We will also be opening a drive-thru soon!
Take out is available and many of our locals call ahead and pick up their order when they are ready.
We have a lovely eatery where you can sit down and enjoy your meal if you would prefer to do that.
We look forward to meeting each and every one of you!

---
TEKAMAH

TEKAMAH--Burt Co. Museum
NOW OPEN! Regular Hours: 1:00 to 5:00 p.m., Tuesday, Thursday and Saturday.

319 N 13th st 402-374-1505

www.burtcountymuseum.org
Historic 1904 E.C. Houston House and Museum grounds. Owner of the Houston Lumber company, Mr. Houston was a prominent businessman. The interior of the 14 room house remains much as it was, with beautiful leaded-etched windows, early light fixtures, open stairway to the second floor, and a third floor ballroom. Four floors of exhibits.

Next to the Houston House is our
Folsom Park Bridge over a pond filled with Koi fish. Beautiful grasses, flowers, trees and plants adorn the berm.
Our beautiful Folsom Bridge is also a nice place to admire the many plants surrounding the pond. While enjoying the quaint little waterfall see how many Koi fish you can count that live in the pond.

---
Tekamah--Master's Hand

3599 County Road "F" on Hwy 75

402-374-2003

Hours: Tuesday - Saturday 8-6

Plants and hanging baskets for sale plus an amazing variety of specialty candles and candies made daily. Classes are offered on Container Gardening, Succulent & plant care. Wide assortment of gifts for all occasions. Occasional Flee Markets and other events.



Worlds Greatest Cinnamon Rolls!
Master's Hand

www.mastershandcandles.com
www.facebook.com/mastershandshop.com

TEKAMAH--Bryant House
104 S 16th St 402-870-1127

Regular Hours: Friday & Saturday: 1-4 pm or by appointment.

Please call ahead! 402-870-1127

www.bryanthousetekamah.org

Open for Tours by request all other times-please call 402-870-1127.
This 1890 house was built by Rose & E.W.Bryant. Rose is the granddaughter of Benjamin Folsom who was the founder of Tekamah.
The Queen Anne Victorian home has been lived in by members of the same family.
As different generations moved in the house, you would think that household items would be replaced. But fortunately, nothing was thrown out!
When stepping through the front doors, you are taken back in history. The first photos you see are grandparents born in 1777 & 1784. "Oh, the stories we can tell visitors". Please visit this fabulous house so we can show you many unbelievable items and share fascinating stories.
TEKAMAH--TIPSEY PIG

439 S. 13TH STREET ON MAIN

402-808-4400

Kitchen Hours 11 - 2pm & 5 - 9pm Tues., thru Sat. Sunday 12 - 8pm Closed Monday
Bar open all day with happy hour 2 to 5

TEKAMAH--BITTERS CRITTERS

904 S. 13th HWY 75

402-374-2111

Hour Tues-Fri 9-5 --- Sat 9-3

TEKAMAH--CHATTER BOX

FOOD, WINE, BREWS, Inside & Outside seating

TEKAMAH--POLINATOR GARDEN

Sponsored by Plaindealer Publishing and UNL Nebraska Extension

800-888-1380

Outside Polinator Garden

Scavenger Puzzle Hunt Participants:

Look for the Garden's Mail Box to get your token & take to the office.

Get your Puzzle piece during Plaindealer Office Hours: Monday - Friday 8-4

Plaindealer Office Hours: Mon - Fri 8-4
---
TEKAMAH-RONNIE'S

230 S 13th

402-374-9958

Hours: 10-1am

Inside & Outside seating, Food & Bar

---
ONAWA-IOWA

ONAWA-BLUE LAKE

LEWIS & CLARK STATE PARK - 21914 Park Loop Onawa, IA
Park information:
Visitors Center Hours:

Wednesday - Saturday 9AM to 4PM If you would like to come on a different day please call or email the park prior to your arrival and schedule a time to visit with our staff.

Phone Number:

712-423-2829

Park Email:

lewis_and_clark@dnr.iowa.gov
Park Website: https://www.iowadnr.gov/Places-to-Go/State-Parks/Iowa-State-Parks/Lewis-and-Clark-State-Park
Description of the Park:

L

ewis

and Clark State Park in western Iowa is both a picturesque park and a historic location along the Lewis and Clark expedition trail from 1804. The park is a popular destination for boating, fishing and other outdoor recreation, with an opportunity to engage in history at the Visitors Center which features replicas of the boats used on the expedition. If you are traveling with kids make sure you allow time for them to participate in our Jr. Ranger Program from the Lewis and Clark National Historic Trail. If you have a National Parks Passport stop by to get your stamp!



Reproduction of 1803 Keelboat/barge used on Lewis and Clark's Expedition

Reproduction of red pirogue used on the Expedition

OAKLAND

Valkommen

OAKLAND--NELSON'S FOOD PRIDE & THE BING Bed & Breakfast

CALL JULIE FOR BOTH STOPS 402-685-5652 or 402-380-9744
429 N. Oakland

Hours: Mon-Fri 8-7 -- Sat-8-6 -- Sun-9-4
Facebook-Nelsons Food Pride

OAKLAND--The Bing Bed & Breakfast
201 S Oakland Ave

402-380-9744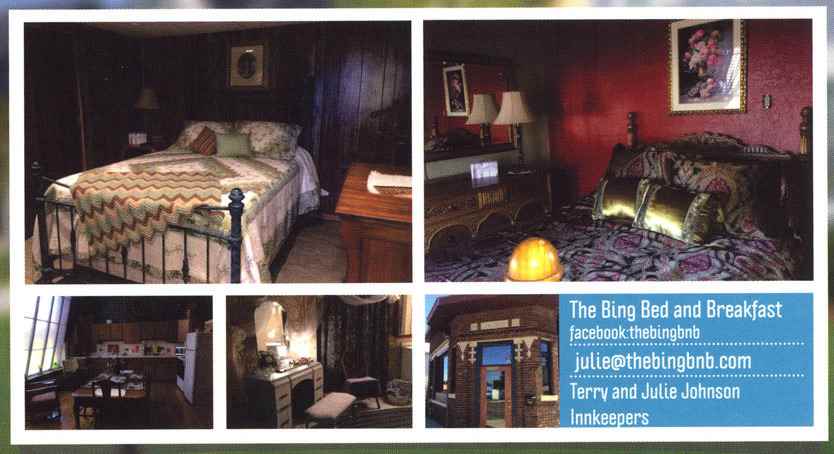 100 year old photography studio renovated into a gorgeous Bed & Breakfast with a relaxing outdoor garden with birdbath.



OAKLAND--EDEN EVENTS, GIFTS, FLORALS

309 N. Oakland Ave 402-618-0306

Hours: Mon - Sat 10-5

OAKLAND--SWEDISH HERITAGE CENTER

301 N Chard Ave Oakland, NE 68045

402-685-5652 or 402-380-9744 www.swedishheritagecenter.org




OAKLAND

--SIMPLE BLOSSOMS BY LENA

501 Oakland Ave

402-685-6022


Hours: Mon & Tues 4-6 --- Wed & Thurs 9:30-4:30 ---Fri 12-5 --- Sat 9-1

Ask about our FLOWER BAR PARTY

LYONS

Center For Rural Affairs

Hours: Monday-Thursday 8 am - 5:00pm Friday 8am to 1pm Closed Sat/Sun
145 Main Street, Lyons NE 68038
Phone Number: 402-687-2100
Contact Person: Tricia Darnell
---
Lyons--Petal Pushers

227 Main Street Lyons, NE

402-687-4132 Facebook-petalpusherslyons

Hours: Mon-Fri 8-4 -- Sat 9-12

Find the Portrait of Waldo Lyon-Town Founder

To claim your Scavenger Hunt Puzzle Piece

Fresh and Silk flowers, gifts for all occasions.
Plants, catering, screen printing, embroidering, and so much more.

Serving Lunch daily! ------ listing on Facebook

BANCROFT

BANCROFT--John G. Neihardt State Historic Site
306 W Elm Street Hours: Tue - Sat 10-4 Sun 1-4

www.neihardtcenter.org Please call for current hours 402-648-3388
Events Monthly

Enjoy the Sacred Hoop Garden near Neihardt's Study

BANCROFT--RU-DE'S MART

1988 Hwy 16 -- Convenience & Grocery Store

402-648-3360

Hours: Almost always open

BANCROFT--FIRST COMMUNITY BANK

201 Main Street - On the Corner

402-648-3341

Mon - Fri 7:30 -3 and Thurs 7:30 - 5

Check out this Historic Bank!

---
DECATUR/MACY

--Hwy 75--SCENIC OVERLOOK

Scavenger Hunters: Standing near the center of the shelter, Look towards the entrance and see the nearest Tree. SCAVENGER CLUE: If you HUNT like a FOX, you will find a _ _ _ !

This is a beautiful overlook along Highway 75. There is an open shelter with kiosks describing the area and it's History. This is where Lewis and Clark met with the Local Tribes on their journey.

MACY

Blackbird Hill Studio

On HWY 75--7 miles North of Decatur or 3 South of Macy "O" Ave (The one that Turns West)

Please call ahead--712-899-4577

Scavenger Hunters: Clue: It's a Farm Studio!

3718 O Ave - turn West--on Hwy 75 - It's a Farm Studio

Call or Text 712-899-4577
Enjoy a stroll through my Gardens and Studios!

I have Photography, Paintings, and Pottery -- Plus Gardens to show!

DECATUR

DECATUR-BLUFF CABINS


The address - 3283 County Rd. V , Decatur NE 68020


THE HARDSTEEL office is where Scavenger Puzzle Hunters will come to Hunt Instructions and where renters come to pick up keys and billing.
---
DECATUR--RIVERS EDGE - Vintage Decor & Antiques
723 S. Broadway in Decatur 402-870-0409
Hours: Friday 12-5 and Saturday 10-2
Call ahead for appointments

Treasures of all Kinds!

---
DECATUR--Decatur Museum
400 W 8th Street 402-349-5018

Days open: Wednesday & Saturday 1 to 4 p.m.
Summer Exhibit features Decatur Churches--Past & Present--

amazing photos and memories from the surrounding area!

A.B. Fuller House built in 1875
Also known as the Robert E. Baker Memorial Building

Days open: Wednesday & Saturday 1 to 4 p.m.

Decatur is Nebraska's Second Oldest Town. "Preserving our past to Enhance our Future"
Visit the "The Local Legends Main Street Trolley". A community Art Project for story telling and sharing local legends. On Main Street--Supported by the Museum.
DECATUR--POP n DOC'S Marina

Under the Bridge! 402-349-5357
Open: Wednesday to Sunday--- See the Kitchen and Deck Bar hours below.

www.popndocs.com
DECATUR--SEARS CENTER

823 S. Broadway

Monday - Friday 9-3

402-349-5525

Featuring a Gallery Exhibit of "Tractors" old and New!

Call ahead for Lunch Menu weekdays--Coffee & Rolls on Friday mornings

DECATUR--GREEN LANTERN STEAKHOUSE

653 Broadway Street

402-349-5645

Lunch and Dinner Hours:

Monday, Wednesday Thursday & Friday: Kitchen 11-1:30 & 5-8 Bar 11 -

Tuesday Kitchen 11-1:30 Evening Kitchen Closed Bar 11 -

Saturday Kitchen 5-8 pm Bar 4 -

Sunday Closed

WALTHILL

WALTHILL--VILLAGE OFFICE

224 Main Street

402-846-5921

Mon-Fri 8-4:30
---
WALTHILL--HAWATAY'S Gift Shop & Supplies

222 Main Street

402-846-5680

Hours: Mon-Fri 12-6pm - Closed Sat-Sun

Hawatay's Gift Shop & Supplies bringing Everyone alike Beads, Blankets, Leather, and One-of-a-kind Products. Locally Owned & Native American (Omaha) owned.

---
WALTHILL--POP-A-JOES Soda & Coffee Shop

Main Street

402-922-3434 or 402-922-1988

Monday 7-2 -- Tuesday-Friday 7-5

New to Walthill--Sodas & Coffee & More!

---
WINNEBAGO--SWEET WATER CAFE

Ho-Chunk Village - 1030 Buffalo Trail STE 130

402-983-9457

Open Mon-Fri 7:30-2

Sweet Water Cafe in Ho Chunk Village
---
On Hwy 75/77 next to Pronto
402-698-2296
Open Tuesday, Wednesday, Friday and Saturday 9:00 a.m. to 4:30 p.m.

SOUTH SIOUX CITY

KOFFEE KNECHTION

419 Golf Rd (just north of Walmart)

712-635-7374

Breakfast & Brunch Restaurant

Hours: Mon-Fri 7-2 -- Sat & Sun 8-12

-- Tree House Rental--Hobbit House too--call for information!
---
SIOUX CITY

Lewis and Clark Interpretive Center
Check out our updated website: www.siouxcitylcic.com .
Sunday programs and Saturday Kids programs via Facebook and YouTube & on our website.

You will love the Dinosaur Display on the grounds outside! A Must See!

Lewis and Clark Interpretive Center
Betty Strong Encounter Center
900Larsen Park Road
Sioux City, IA 51103
712-224-5242
facebook.com/sclandc
twitter.com/lcic_SiouxCity
Instagram.com/lewisandclark_siouxcity
Hours
9am-5 pm Tuesday through Friday
Noon-5pm Saturday & Sunday
All activities, programs and exhibits are free
Built and sustained by (MRHD) Missouri River Historical Development, Inc.
Life-like animatronics
Hand-painted murals
Entertaining and informative presentations
Local history, art and photography
---
SIOUX CITY--Dorothy Pecaut Nature Center

Nature Center Hours: Tues. – Sat. 9am – 4pm
Closed Sun & Mon
Hiking trails open daily 4:30 am – 10pm. Park in lower lot after hours.

Office: 712-258-0838 ~ Mobile: 712-898-9168
Woodbury County Conservation Board ~ Dorothy Pecaut Nature Center
4500 Sioux River Rd. ~ Sioux City, IA 51109-1657
https://woodburyparks.org ~ Facebook Instagram YouTube
Visit the Nature Playscape
View our Loess Hills Exhibit Gallery & Live Birds of Prey exhibit
Hike our trails!

---
---
SIOUX CITY--RAILROAD MUSEUM

3400 Sioux River Rd, Sioux City, IA, United States, Iowa
information@siouxcityrailroadmuseum.org

Hours: Tues-Sat 10-4 -- Sun 12-4 Monday Closed
Museum Tours: $10
Scavenger Puzzle Hunt--check in at the office
---
PENDER

Thurston County Heritage Museum

Heritage Museum of Thurston County Nebraska
500 Ivan St. Pender, NE 68047
To arrange a visit please call Kellie Wageman 402-922-3714
Regular Hours:
Year round:

Mon & Fri 1-4 pm. Free admission
Follow & Like us on FACEBOOK: Heritage Museum of Thurston County
PENDER--THRIFTIQUE

Main Street Thriftique 404 Main Street

402-385-6404

Hours: Tuesday, Wednesday, Thursday 10-2 Saturday 9-1

Large selection of Items of every kind--A Must See!

PENDER--UPTOWN PIX

322 Main Street

402-385-2256

Hours: Mon - Fri 9-6 -- Sat 10-4 - Sun 10-12